Bearing witness to IGM during the 56th Session of the UN Committee against Torture:
Small Luk (BBKCI Hong Kong), Daniela Truffer (StopIGM.org), Ditte Dyreborg (Danish
Intersex Advocate) (plus Alex Jürgen of VIMÖ) at Palais Wilson, Geneva 13.11.2015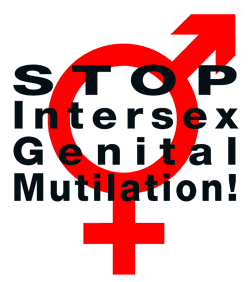 Hong Kong + China + Macau were the 3rd country (or 3rd to 5th governments) up for review of IGM practices at the 56th session of the UN Committee against Torture (after Austria and Denmark).
StopIGM.org reported live from the hearings in Geneva on Tuesday, 17 November 10–13h CET + Wednesday, 18 November 15–18h CET (videos now available via treatybodywebcast.org), including a Transcript of Intersex Q&A:
Session 1: Tuesday 17 November 2015
Tue 12:55h Committee member Sapana Pradhan-Malla just asked Hong Kong, China + Macau (!!!) questions on Intersex and IGM! YAY!!
«Although I'm raising this concern in relation to Hong Kong, but I also want to mention that this is also related to China and Macau, because certain concerns are also raised from China. First [the] committee is extremely concerned about […] involuntary surgeries of infant children born with intersex variations. Therefore [the] committee would like to know, if laws are practiced that allow intrusive or irreversible treatments including forced genital normalisation surgery, involuntary sterilisation, unethical experimentation, medical display […], and I am raising this concern especially in a context when it is infused or administered without free and informed consent of the person concerned. What action you have put or planning to put in this regard?»
Further, Sapana Pradhan-Malla also raised concerns regarding LGBTI issues in general and specifically the lack of legal recognition for trans persons, and non-consensual "reparative therapies, or conversive therapies".
For the State Parties' (no)answers see the second session tomorrow.
Session 2: Wednesday 18 November 2015
[ Note: Unfortunately, here is no Chinese Delegation List avilable, any additional info on the featured Delegates appreciated. ]

Wed 16:10h: A Delegate from the Hong Kong Justice Department (?) gave a global answer on "LGBTI" – without addressing Intersex at all:
«As to the issue of LGBTI mentioned by Madame Gaer and Madame [Pradham-]Malla, China does not view LGBTI as a mental disease or require compulsory treatment for LGBTI people. They are not, they will not be confined in mental hospitals either. Indeed LGBTI face some realistic challenges in terms of social acceptance, informed education, health and family life. This deserves our attention, but this does not fall within the scope of the convention. Thank you for your attention.»
Wed 17:39h Sapana Pradhan-Malla mentions non-answer, repeats question on IGM practices, asks for statistics:
«In your response you mentioned that LGBT is not a crime in China but what about the forced and unnecessary surgery on intersex population?
In relation to Hong Kong I still want some clarification.
[…]
My second concern is if the government has collected any statistics of impact of genital normalisation surgeries on intersex children, if yes how [the] government is intended to educate and sensitise frontline medical professionals.»
Wed 17:47h A Hong Kong Delegate instead describes IGM as entirely unproblematic, purely medical issue:
«Miss Pradhan-Malla raised a question about intersex babies. For intersex babies healthcare professionals adopt a multi-disciplinary approach in providing appropriate investigation, treatment and management based on a clinical condition of individual patients. The process may involve multi-speciality consultations or meeting with medical, social and psychological professionals. The healthcare professionals of the hospital authorities would discuss with the parents of the baby with ambiguous genitalia and assess the sex and the sexual function which the baby may develop in the future. The decision would be made with the agreement of the parents of the concerned baby after thorough discussion with healthcare professional. Thank you.»
The binding "Concluding Observations" of the Committee will be published in December.

My 2 cents: The 3rd flat-out Gov denial of IGM practices in this session – and also the 3rd time in a row that Delegates tried to deflect from IGM by invoking "LGBTI" (or in the case of Austria, "transgender"). Intersex people have long been fed up with being wrongly "subsumed" under such labels as a pisspoor excuse to ignore victims of IGM practices, but to protect IGM perpetrators instead (see e.g. 2015 CAT HK NGO Report, p. 10; 2014 CRC Swiss NGO Report, p. 11-12. How much longer?!
>>> Englisch UN Media Release on the Session, mentions intersex
>>> French UN Media Release on the Session, mentions intersex
>>> Chinese UN Media Release on the Session

>>> CAT #56 investigates IGM Practices in Austria
>>> CAT #56 investigates IGM Practices in Denmark
>>> CAT 2015 Thematic Intersex Report Hongkong + China
>>> CAT 2015 Thematic Intersex Reports Austria and Denmark

See also:
• UN Committee for the Rights of the Child (CRC) 2015: IGM = Harmful Practice
• UN Committee against Torture (CAT) 2015: IGM = Inhuman Treatment or Torture
• UN Human Rights Committee (HRCttee) to examine IGM Practices