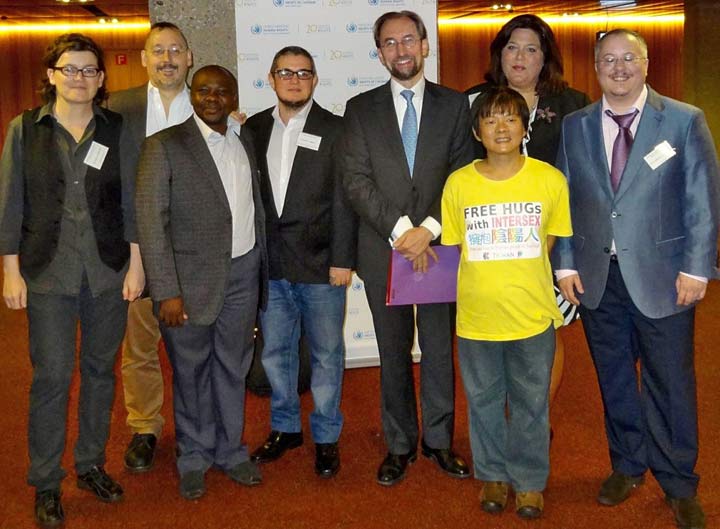 L.t.r.: Daniela Truffer (Zwischengeschlecht.org / StopIGM.org), Morgan Carpenter (OII Australia), Julius Kaggwa (SIPD Uganda), Mauro Cabral (Justicia Intersex Argentinia), UN High Commissioner for Human Rights Zeid Ra'ad Al Hussein, Hiker Chiu (OII Taiwan), Kimberly Zieselman (AIC USA), Dan Ghattas (OII Germany). Photo: UN OHCHR.
The Office of the UN High Commissioner for Human Rights (OHCHR) published a >>> news report on the UN Expert Meeting on ending human rights violations against intersex persons last week in Geneva.
The report includes quotes Daniela "Nella" Truffer, and explicitly mentions the demand for "a legal ban on medically unnecessary surgeries and treatment on intersex children without consent" as well as UN bodies recognising IGM as "harmful practice" und "ill-treatment".
The report further quotes from the >>> opening remarks of UN High Commissioner for Human Rights, Zeid Ra'ad Al Hussein:
"Such violations are rarely discussed and even more rarely investigated or prosecuted," Zeid said. "The result is impunity for the perpetrators; lack of remedy for victims; and a perpetuating cycle of ignorance and abuse."

This blog says thank you!
See also:
– UN Intersex Expert Meeting: IGM– Ending the Impunity of the Perpetrators!
– Intersex Human Rights: Brillant New UN OHCHR Fact Sheet
Intersex Genital Mutilations • 17 Most Common Forms
Human Rights Violations Of Children With Variations Of Sex Anatomy
IGM – Historical Overview • What is Intersex? • How Common are IGMs?
>>> Download PDF (3.65 MB)     >>> Table of Contents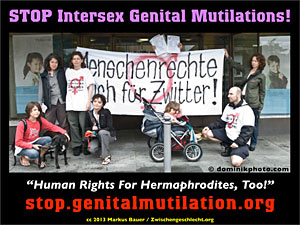 STOP IGM Primer:
What everyone should know about Intersex Genital Mutilations (IGM)!
>>> Download (PDF, 1.95 MB)
Eliminating IGM practices by holding the perpetrators accountable via well-established applicable human rights frameworks, including Inhuman Treatment and Harmful Practices – Presentation @ UN expert meeting on Intersex Human Rights in Geneva 26.–27.10.2015
>>> Download PDF (831kb)