"Free & Equal", the United Nations Campaign for LGBT Equality under the auspices of the UN Office of the High Commissioner for Human Rights (OHCHR) in Geneva, recently published a brilliant
>>> "Fact Sheet Intersex" (PDF) which has been rightfully praised all over.
Markus Bauer (StopIGM.org): "I particularly welcome how it actually spells out "ill-treatment" and "harmful practices", two crucial and most powerful human rights frameworks still too often 'overlooked' when discussing intersex human rights, same as "access to effective remedy, including redress and compensation" included in the action points.

"Put "perpetrators" on top of that, and consider my day made 🙂
"Together with the similarly brilliant German QueerAmnesty flyer on intersex (PDF), this is the new benchmark for adaequately adressing intersex rights from a LGBTQ perspective, while successfully avoiding the pitfalls of appropriation.

"Well done! Now, who's next?"

Intersex Genital Mutilations • 17 Most Common Forms
Human Rights Violations Of Children With Variations Of Sex Anatomy
IGM – Historical Overview • What is Intersex? • How Common are IGMs?
>>> Download PDF (3.65 MB) >>> Table of Contents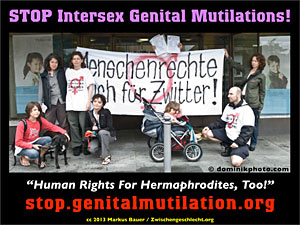 STOP IGM Primer:
What everyone should know about Intersex Genital Mutilations (IGM)!
>>> Download (PDF, 1.95 MB)

IGM as a Harmful Practice: 2015 UN-CRC Briefing
• IGM: A Survivor's Perspective • Intersex Movement History
• What are Variations of Sex Anatomy? • What are IGM Practices?
• IGM and Human Rights • Conclusion: IGM as a Harmful Practice
>>> Download PDF (3.14 MB) >>> Table of Contents