The new Thematic Intersex NGO report to the UN Committee against Torture (CAT) documents and criticises IGM Practices, proving they amount to Torture or Cruel, Inhuman, or Degrading Treatment (CIDT), and that all state parties as signatories to the Convention against Torture are under obligation to take all appropriate steps, including legislation, to prevent them (Art. 1, 2, 16 CAT), to ensure impartial investigation of all cases, as well as redress, fair and adequate compensation and rehabilitation for all victims (Art. 12, 13 and 14 CAT), and to train and inform medical staff that non-consensual unnecessary surgical and other procedures on intersex persons are a serious human rights violation (Art. 10 CAT).
The report also includes an updated bibliography on international human rights bodies, national institutions and NGOs condemning IGM Practices, as well as an updated theamatic supplement "IGM in Medical Textbooks – History and Current Practice", and is now available for download: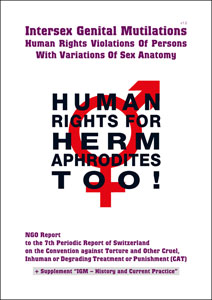 NGO Report to the 7th Periodic Report of Switzerland on the Convention against Torture and Other Cruel, Inhuman or Degrading Treatment or Punishment (CAT)
Compiled by:
Zwischengeschlecht.org / StopIGM.org
Intersex.ch
SI Selbsthilfe Intersexualität
The review of Switzerland during the 55th session of the Committee against Torture will take place in Geneva at Palais Wilson on 3–4 August. Beforehand there will also be a confidential NGO briefing of the Committee. Zwischengeschlecht.org / StopIGM.org will participate in all meetings. To be continued …
>>> CAT: Germany should investigate IGM Practices and compensate survivors!

IGM as a Harmful Practice: 2015 UN-CRC Briefing
• IGM: A Survivor's Perspective • Intersex Movement History
• What are Variations of Sex Anatomy? • What are IGM Practices?
• IGM and Human Rights • Conclusion: IGM as a Harmful Practice
>>> Download PDF (3.14 MB) >>> Table of Contents