UPDATE! 09.06.2016: UN-CRC reprimanded Nepal for IGM and Bullying!

Photo: 1st Intersex National Workshop, Kathmandu 8-9 February 2016
This week, at the 72nd Session of the UN Committee on the Rights of the Child (CRC), Nepal is first up for review of Intersex Human Rights including the "growing practice of Intersex Genital Mutilations" on Thur 19 May 15:00-18:00h CET [Nepal: 18:45-21:45h] + Fri 20 May 10:00-13:00h CET [Nepal: 12:45-16:45h] – archived on treatybodywebcast.org!
Next week: The UK …

TABLE OF CONTENTS: "Intersex Genital Mutilation, Stigma and Bullying in Nepal"
1.  Background: 1st Intersex Workshop, Intersex Stories Book, 2016 CRC NGO Report
2.  Intersex Genital Mutilations in Nepali Paediatric Hospitals
a) IGM in Publications by Doctors and Hospitals
b) IGM in Witnesses Accounts
3.  Denial of Needed Health Care
4.  Stigma, Bullying and Isolation
•  Nepal questioned over IGM by UN Child Rights Committee – Gov denies


4.  Stigma, Bullying and Isolation
"[T]here is no understanding of intersex issues in Nepal among the public. The community people think that is the curse of past life and they are not aware of the existence of intersex people in normal life. The community is never aware and there is no such organization to advocate for the Intersex issues in Nepal."   Source: 2016 CRC Nepal Intersex NGO Report (p. 2)
As the Nepali Intersex NGO Report points out, the taboo of intersex as a natural biological variation in human and animals leads to discrimination and stigma pervading everyday life in Nepal.
Further, a publication by a specialised surgeon indicates that e.g. for Nepali men with hypospadias their penis is considered to render them unfit for marriage despite normal fertility, thus before being able to "seeing girls", first they would require "hypospadias repair surgery" in order to obtain "clearance to go ahead with marriage".
Last but not least, as each and every one of the personal stories collected on occasion of the 1st Intersex National Workshop and published as e-book substantiates, for Nepali intersex children and adolescents this lack of education of the public results in considerable bullying and isolation particularly in school, in several cases even leading to the child being prevented from finishing school.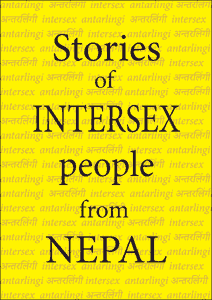 Stories of Intersex People from Nepal
Compiled by: Esan Regmi
Translated by: Parsu Ram Rai
>>>  Download (PDF 932 kb)
Relevant excerpts from the 9 personal stories after the break:
SHEETAL HUMAGAI (p. 6-8)

Born 1991, given female name and raised as daughter. At puberty beginning to develop like a boy. Realised at 14 they were different (born with male and female genitalia).
Was raised as girl, although his gender identity is male, because parents feared society's reaction to intersex variation.
Later undergoes voluntary surgery in hospital to make genitals more masculine.


"I was teased and humiliated often by my friends on the street and at home because my body was different to others. (6)


However, the initial surgery was not successful and I will need another in three months. I am happy now and have come out from the closet. I have started speaking about my experience of being intersex and I would like to thank 'Rest Nepal' for their initiative and help." (8)
CHINA CHAUDHARY (p. 9-10)
Born 1984 and raised as daughter, body appeared wholly female.


"However, when I was 12 years old, my physical growth was not like other girls and due to this difference, I was forced to leave home and my parents were not at all happy.

I began to work in the homes of other people to make a living. After some time working there I broke my leg. As a result I was fired instead of being provided with treatment and had nobody to look after me. I returned home at this point, but I did not receive any care, support or treatment from my family who did not seem bothered with me. With the little money I had earned from my job I got treatment, but I was so sad at this point and experiencing a lot of problems. On the one hand I was temporarily disabled by my injury and in the other I had no one who cared for me or who could provide me with food. So I lived by borrowing food from others. When I eventually healed, I again started working and to lead my life.


However, while I dressed and lived like a women I did not develop breasts and most people called me different disparaging names such as Hijada, Chhaka and so on. I also had to face a lot of such humiliation in the workplace as well. Through work I had collected enough money to go for a health checkup. It was at this point that the doctor told me that I did not have a uterus. (9)

I was incredibly upset by this but I had nobody close to confide and share my feelings with. Nearly everybody I knew discriminated against me in some way. I felt incredibly alone and isolated." (10)
NABIN CHAUDHARY (p. 11-12)
Born 1991 with ambiguous genitals, but raised as a daughter. At 5th grade body started developing like a boy's.


"When I was in the 5th Grade, despite my feminine name, my body started to develop like a boy's and my school friends began to tease me. Other people also began to perceive me as either male or female at different times. I began to wonder why I looked different and why they were looking at me and questioning me. Added to this, we have five intersex people in my immediate and extended family and this resulted in more teasing and humiliation. This led to a lot of stress and my studies began to suffer. (11)

Later, when I reached the 7th Grade, I changed my name from a girl's name to that of a boy. But I started to be doubly discriminated against as I looked male yet had breasts as well. I was stressed and completely dropped out and went to headquarters for my School Leaving Certificate preparation." (12)
KAMALA GURAGAIN (p. 13-14)
Born with ambiguous genitals, brought up as daughter.


"When I was 5 years old, I remember people in my community questioning whether I was a son or daughter, my Dad would tell them that I was his daughter. When I went to school to study, my classmates used to tell me that I was a boy and must sit and stay with the boys. I ignored their words and I stayed sitting with the girls in school.

I reached puberty when I was in class five. At this point there were drastic changes in my appearance as I started growing facial hair and developed a beard and moustache. This was really difficulty as my friends started teasing me, calling me different names and using bad language, calling me things like Hijara (a transgender culture in India). They saw me as a bad omen and often used to say to me and others that I must be expelled and sent to a faraway land. (13)


Because of the fear and humiliation, I used to cover myself with a blanket in class and eventually I was forced to leave school completely. This resulted in me making a bad impression on my family too as I was looked at so differently by the society. I felt sad and used to feel very alone. Often times, I used to curse myself for being born this way."  (14)
ARCHANA POKHAREL (p. 15-16)
Born 1984 with ambiguous genitals. Parents had already a daughter, so they call her "son", although she has a female name. At 13, not developing physically like other girls, parents and family begin to worry.


"But on campus, my classmates refused to stay with me as they were not sure about my gender. (15)


Then my mother's uncle, a doctor from India came to visit. I told him about my physical features and it was him who told me about being intersex. I started crying then, to finally know about it. My mother comforted it." (16)
AMAR CHAUDHARY (p. 17-18)
Born 1996 with ambiguous genitals, raised as a boy.

"I don't know if it is an omen, my destiny or Karma but my female part doesn't function properly. I have a constant stream of urine that never stops. My parents initially thought it might fix itself, but this never happened.


Due to my family's socioeconomic condition we could not afford treatment. Our financial situation was so difficult I did not enroll in school until I was 8 years old.


This was a milestone for me but it was also incredibly difficult. I was teased constantly and humiliated due to the constant strong smell of urine. (17)

Over time my problem got worse and when I was 9 I was taken to Kholpur Hospital in Nepalgunj for treatment. I was admitted for 2 months and prescribed medicine but this didn't help. Later the doctor told my family that my bladder was not properly formed and recommended me for surgery. But my family could not afford treatment and my father took me back home.


Due to lack of treatment I cannot participate in sport and as my health worsens I find it difficult to walk, stand or sit and I do not sleep well." (18)
MY STORY FROM PARVATI TO ESAN (p. 19-20)
Born 1988, brought up as female, but at 13 physical development different compared to other girls.


"At birth, I was brought up as female by my family but later at the age of 13 years, my physical development was different compared to other girls. This was extremely shocking to me and my family because I lived in a conservative society and they started looking at me very differently. My community told my family to take me to treatment centers and counselling as well."


My family thought I could be cured and I was taken to India for treatment, but upon reaching there the doctor said that the treatment would not be possible. Instead he advised that the Hijra community in India would take me as part of their rights. (19)

Whenever I did go out, people used to look at me and ask if "I am a man or woman" which used to stress me out badly and hindered my work and my life. This stress affected my studies too as I often broke down and felt weak. However, my family always encouraged me . This encouragement led me to continue my studies. But when I appeared to take my final examination I was told that I was a fake student as my appearance did not conform with the name and gender marker on my ID card. As I result I had to overcome a great deal of stigma, discrimination, discouragement and accusation while undertaking my exam. Despite these challenges and problems I did not give up on my studies and turned my thoughts in a positive direction." (20)
ARJUN CHIRIMA (p. 21-22)

Born 2001 with ambiguous genitals.

"Since birth I have suffered from a continuous flow of urine from my genitals. My family, initially sought medical treatment for me in the teaching hospital in Kathmandu. The doctor recommended that I undergo surgery, but for this my parents would need to pay almost 3 lakhs Nepali Rupees (about 3000 US$) which they were unable to afford. As a result my family returned home with me without treatment. (21)

However, due to my urinary incontinence and the continuous foul smell of urine, I was teased and most of my classmates disowned me and humiliated me many times. Due to such a hostile and uneasy environment, I was forced to leave school. Even within my wider community I feel rejected as they are not at all happy with the way I was born. My family too receive criticism and are isolated and looked upon differently in my community." (22)

BIMALA (p. 23-24)
Born with "different" genitals, raised as daughter. At 15 physical growth not like as other girl's, no menstruation..


"People used to give me bad names like chhakka and hijra and thought I was infertile." (23)

TABLE OF CONTENTS "Intersex Genital Mutilations, Stigma and Bullying in Nepal"
1.  Background: 1st Intersex Workshop, Intersex Stories Book, 2016 CRC NGO Report
2.  Intersex Genital Mutilations in Nepali Paediatric Hospitals
a) IGM in Publications by Doctors and Hospitals
b) IGM in Witnesses Accounts
3.  Denial of Needed Health Care
4.  Stigma, Bullying and Isolation
•  Nepal questioned over IGM by UN Child Rights Committee – Gov denies
See also:
• 11 Verdicts by UN Treaty Bodies Condemning IGM – And Counting …
• UN Committee for the Rights of the Child (CRC) 2015: IGM = Harmful Practice
• UN Committee against Torture (CAT) 2015: IGM = Inhuman Treatment or Torture
• UN Human Rights Committee (HRCttee) to examine IGM Practices
• UN Committee on the Rights of Persons with Disabilities (CRPD) condems IGM
• Historic 56th Session of Committee against Torture reprimands 4 Governments over IGM
• CAT 2011: Germany must investigate IGM practices and compensate survivors!
Intersex Genital Mutilations • 17 Most Common Forms
Human Rights Violations Of Children With Variations Of Sex Anatomy
IGM – Historical Overview • What is Intersex? • How Common is IGM?
>>> Download PDF (3.65 MB)     >>> Table of Contents
Eliminating IGM practices by holding the perpetrators accountable via well-established applicable human rights frameworks, including Inhuman Treatment and Harmful Practices – Presentation @ UN expert meeting on Intersex Human Rights
>>> Download PDF (831kb)