Excerpts from: Sandra Eder: "The Volatility of Sex: Intersexuality, Gender and Clinical Practice in the 1950s", in: Gender & History, Vol. 22 No. 3 November 2010, pp. 692–707.
Throughout the records, children's sexuality caused a high level of anxiety in parents, especially as they feared psychological problems.
In girls, special attention was paid to the enlarged clitoris, and surgical reduction or amputation was the usual intervention. Surgeons at Hopkins performed clitorectomies on CAH children who were raised as girls, a procedure that was neither discussed nor questioned in the patient records. (53) In the sixteen cases in my sample where 'enlarged clitoris' was listed as one of the complaints, surgeons performed a clitorectomy at the earliest possible time after admission on all but one patient. Hopkins seemed to have had an already existing tradition of clitorectomies that persisted through the introduction of cortisone [by Lawson Wilkins] and Money's gender concept. (54)
As with boys, a major concern for physicians and parents was frequent erections of large clitorises and masturbation. Physicians regularly inquired after such behaviour and often parents addressed it themselves. This resonates with a longer medical tradition to cure masturbation (and insanity) through clitoral surgery. (55) At the Hopkins clinic, this tradition was combined with the social concern that psychological difficulties might arise from growing up as a girl with an enlarged clitoris or phallus; it would raise doubts concerning her sex and trouble her gender role. Psychological adjustment justified depriving 'a patient of what some authorities have declared the most significant erotic zone in the female'. (56) Again, the body was thought to be more flexible than a child's gender role. Clearly, an enlarged clitoris initially was more upsetting to parents and physicians than to the children themselves. (57) [pp. 700-701]
Clearly, CAH's sexual symptoms, such as 'virilised' genitals in girls and precocious genitals in boys, caused anxieties in parents and physicians. Medical/surgical intervention provided a solution to a social problem of ambiguous or precocious sex. [p. 704]
The Hopkins protocols, as the publications that resulted from Money's study became known, created a sense of emergency that encouraged physicians to assign sex quickly and to alter the body surgically in order to achieve psychological healthiness in children with intersexual conditions. (12) The ethics of these medical interventions have been criticised extensively, as adult patients started challenging the irreversible surgery and culture of secrecy and shame that had permeated their treatment. (13) Money's thesis that gender was learned was quickly replaced by more biological determinant theories. (14) Nevertheless, the practice of early surgical intervention continues to this day. [p. 693]
Note: These 3 excerpts contain all paragraphs regarding clitoral surgery i.e. amputation of the clitoris within the 13 pages text, which is – surprise, surprise! – exclusively centered around questions of "gender", and does NOT discuss ethics and human rights considerations. 20 years of survivors bearing witness to harmful, non-consensual, purely cosmetic genital surgeries are mentioned exactly once in just 1 single sentence (quoted also above):
"The ethics of these medical interventions have been criticised extensively, as adult patients started challenging the irreversible surgery and culture of secrecy and shame that had permeated their treatment." (13)
As sources, only scholarly publications are given, but – once again – NO testimonies by survivors themselves – not even by scholarly ones …
NOT once mentioned at all are the various adverse effects of the clitoral surgeries/amputations for the "patients" concerned – an obvious "lack of awareness and attention to the reality of intersex lives [that] biases the presentation of the topic, potentially unintentionally perpetrating the invisibility and objectivation of intersex people" (Koyama/Weasel).
This will not do! "Intersex patients" are human beings with feelings and human rights, who have been greatly wronged by – no matter how well intentioned – unethical "scientists", "doctors", and "researchers", and who are still suffering today. They deserve justice, NOT being served up as guinea pigs for "scientific theories" – again!
>>> Emi Koyama & Lisa Weasel: "From Social Construction to Social Justice" (2002), in:
"Teaching Intersex Issues. 2nd Ed." (2003) (PDF, p. 2–9)
See also:
• Lawson Wilkins, Andrea Prader 1950: From Experimentation to Extermination (1)
• Lawson Wilkins et al. (1958, 1971): Cosmetic clitoris amputations (3)
Intersex Genital Mutilations
Human Rights Violations Of Children With Variations Of Sex Anatomy
2014 NGO Report to the UN Committe on the Rights of the Child (CRC)
>>> Download PDF (3.65 MB) >>> Table of Contents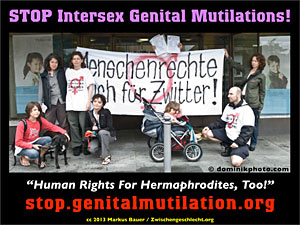 STOP IGM Primer:
What everyone should know about Intersex Genital Mutilations (IGM)!
>>> Download (PDF, 1.95 MB)