>>> 8 Intersex Protests + Info vs. 'D$Dnet' + 'I-D$D', Belgium 07.-13.06.2015
Intersex Protest #2: '1st DSDnet Training School' @ Ghent University Congress Center 'Het Pand', 08.06.2015
On day #2 of the '1st D$Dnet Training School' advocating IGM practices, the participants were greeted by the (admittedly small) obligatory nonviolent intersex protest, also brandishing placard no. 2 in a new series featuring IGM survivors speaking out – in this case Swiss intersex activist and IGM survivor, StopIGM.org's one and only Daniela "Nella" Truffer, flanked by fellow survivors Claudia Kasper and a placard picturing the late Katrin Ann Kunze (see above).
The placard's design of course was a blow-up of a 3-page interview on IGM practices in the current issue of Geneva LGBT mag "360", and the cropped foto used there was in turn shot on occasion of one of several nonviolent intersex protests vs. the 64th Annual Meeting of the 'German Society for Urology (DGU), Leipzig 28.09.2012: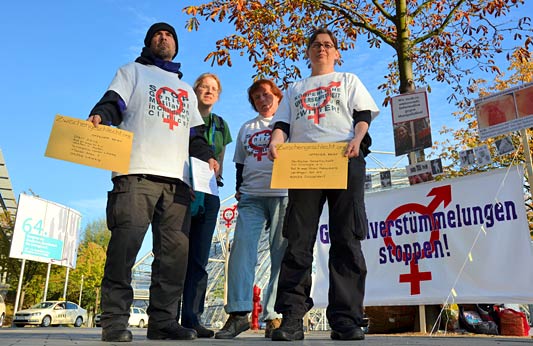 Daniela, the intersex person having participated most frequently in nonviolent intersex protests on this planet by quite some margin (current IGM protester global rank #2 with just shy of 100 actions under her belt), was prevented from attending today's protest due to her beloved dog (and seasoned intersex protest veteran) Baiba (current IGM protester global rank #5) having just returned from ICU, fighting for her life against an unknown but serious internal infection.
Daniela has also again and again beared testimony to IGM and it's lifelong effects in front of various human rights and ethics bodies, as well as in soon 200 media appearances. You can read and hear her story in english in her own words e.g. here:
This blog salutes Daniela for her exceptional leadership in actively and effectively combatting both IGM practices and perpetrators, and protecting future generations from being mutilated like she has been – far above and beyond any call of duty.
"You Were Always Brave,
And Ever May You Be"

>>> Intersex Protests + Info vs. 'D$Dnet' + 'I-D$D', Belgium 07.-13.06.2015